Stylesnap
Instantly buy a garment you see in real life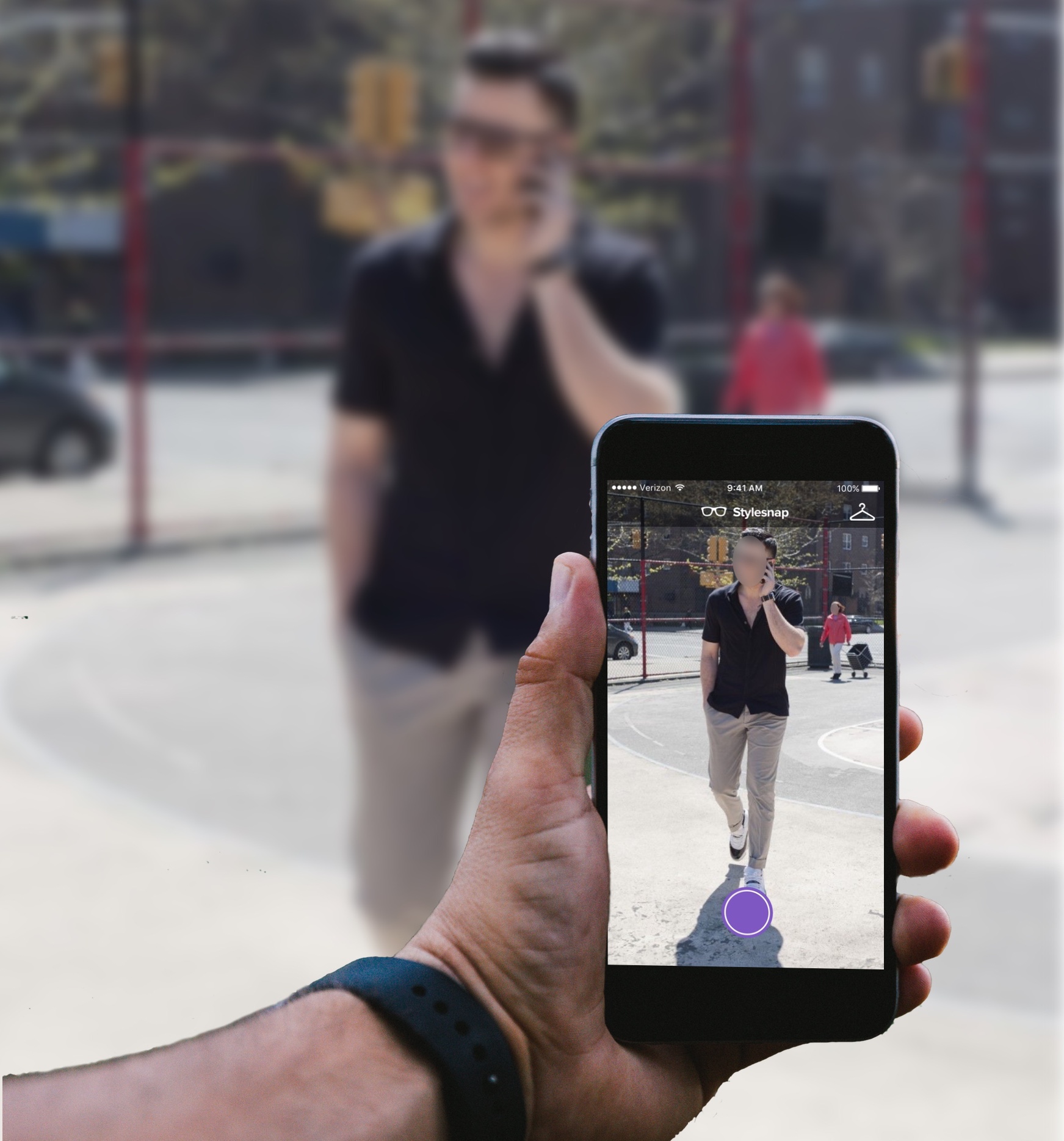 Problem


We often see someone wearing a garment or accessory that we really like but we don't know where it is from or not sure how to ask them. With Stylesnap, I designed a mobile app that enables you to impulsively identify and buy an apparel or accessory that you see in real life.
Team:
Individual Project

Tools Used:
Directed Storytelling, Affinity Diagramming, Storyboards, Speed Dating, Prototyping, Sketch, Principle 


Project Duration:

 1 week
Research
I'm personally not an avid shopper, fashion follower or impulsive buyer. So to build empathy and get context about the problem, I conducted interviews with the
directed storytelling
approach with 
six individuals - 3 guys and 3 girls
. I asked them about how they shop, about impulsive buying and if they've been in situations where they saw some clothes in real life and wanted to know more about them.
After the interviews, I synthesized all my notes into an affinity diagram to identify key insights and build ideas upon them. Some of the key findings were:
1. Most people are
hesitant to start a conversation
with strangers about where they bought clothes.
2.
Sales and prices
are the major driver of impulse shopping.
3.
Buying in stores
in a still a crucial part of everyone's shopping process.
4. Often people don't care about the exact item but a
similar style
.
Storyboards and Speed Dating


From the themes in my interviews, I drew some storyboards and speed dated four people to get their reactions on the ideas. Based on the feedback from the speed dating, I finalized the main design ideas which I wanted to incorporate as
features
into my design: 
1. Directly
open up the app to camera
mode to avoid missing the moment of snapping someone nearby.
2. Use of
image analysis
to detect clothes and accessories in the picture.
3. Show
similar styles and clothes
like Pinterest using image analysis and buying patterns.
4. Highlight
sales and offers
to drive impulse buying.
5. See
nearby stores
were the item is available to try it out or in case of urgent need.
6. Speed up the payment and checkout process with technologies like
Apple Pay
to encourage quick shopping.
7. To reduce the creepy factor of clicking strangers, use
live face blurring
before taking the picture. 
Low-fidelity wireframes


I then moved on to iterating on low-fi wireframes that would define the flow and key elements on all screens. This gave me an idea of the hierarchy of elements upon which I could build a visual style.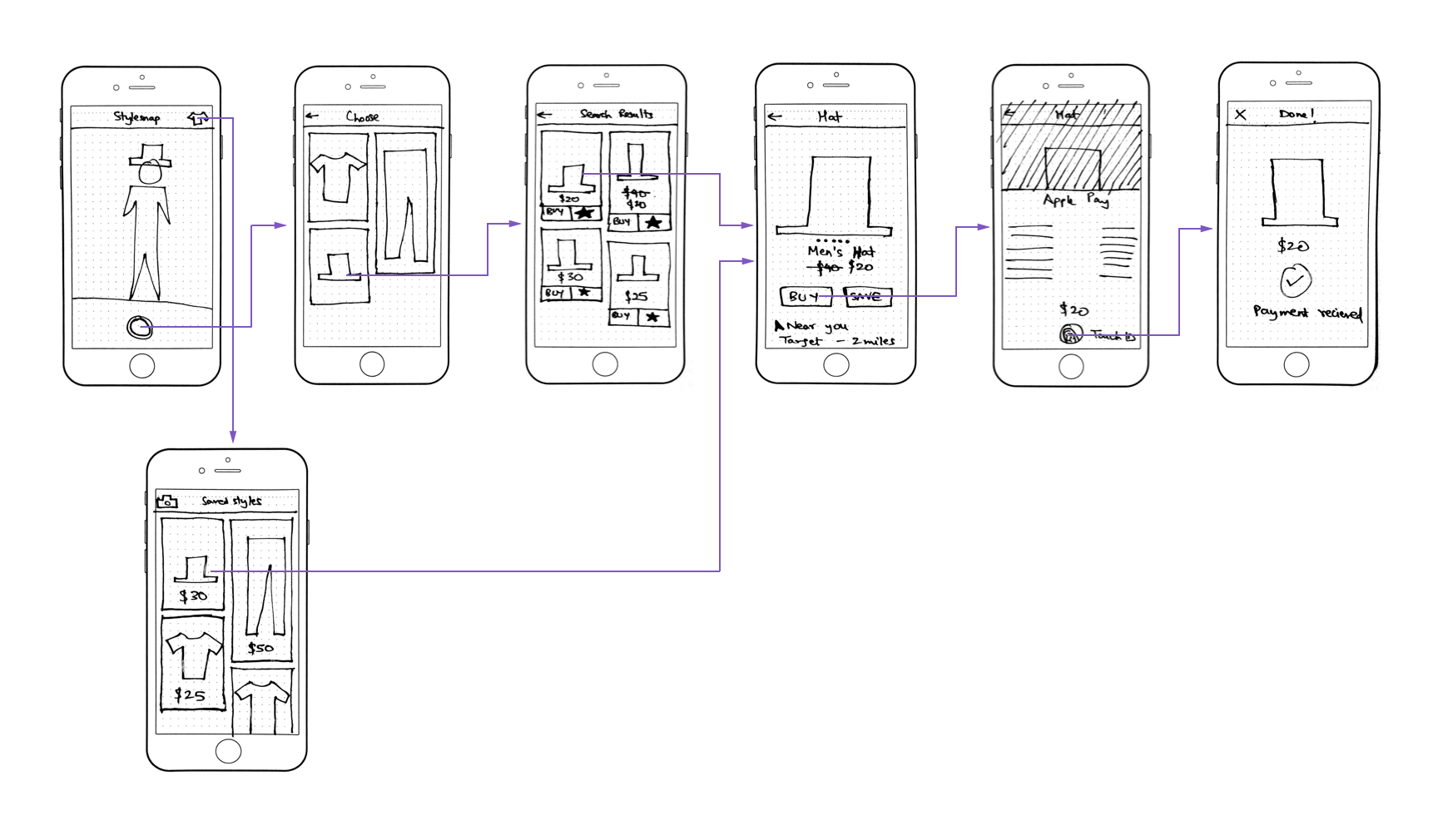 UI Design


Once the flow and interface elements were in place, I worked on the visual design of the app by defining the colors and typographic hierarchy. Then I worked with iOS design patterns to create final wireframes.
Motion design

I spent a lot of time trying to add motion and animation meaningfully in the app. I used
Principle
to craft the animations and transitions. Some examples are below and you can see whole demo video on the
top of this
page
.